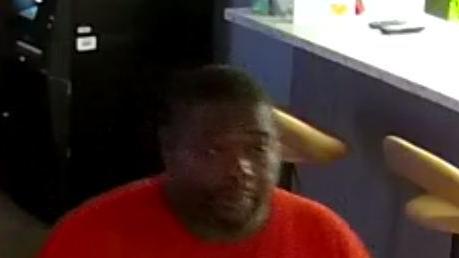 The Moline Police Department is looking for a man considered a person of interest in the May 29 armed robbery of a video gambling parlor.
Officers responded to the incident at 11:01 p.m. Tuesday, May 29, at Spin 2 Win, 2350 41st St., Moline, where an employee was struck with a firearm and suffered minor injuries, police said. Three suspects unsuccessfully tried to use crowbars to break into the video gaming terminals before fleeing with a small amount of money taken from an area near the employee counter.
On Monday, police released pictures of a man investigators want to question. Authorities also released video surveillance footage, which involved three masked individuals in gloves and dark clothing. The separate posts on the department's Facebook page were shared hundreds of times.
"Thankfully my employee suffered only a minor injury," said Susan McAfoos, who owns Spin 2 Win. "Hoping the video footage leads to someone knowing something about this unfortunate event."
The business closed for a day so its damaged machines could be repaired, and the injured employee since has returned to work, she said.
McAfoos owns numerous video gaming establishments in the Illinois Quad-Cities, including two others near Spin 2 Win in neighboring strip malls on Avenue of the Cities: Lucky 777's and Suzi's Video Poker & Slots. Spin 2 Win opened in late March. McAfoos said she is in the process of strengthening security at her parlors.
"There is always potential for crime with any type of business," she said. "Recently I have been adding extra lighting outside the entryways and in my parking lots."
While other sites with video gaming machines have been targets of crime in recent years, Moline Police Det. Joe Kluever said, "Burglaries haven't been as much of an issue lately at these places."
"This is definitely our first armed robbery at one of these locations," he said.
There are 37 licensed video gaming entities in Moline, seven more than an ordinance adopted in November allows for, said Keith Verbeke, Moline's finance manager. Some bars, restaurants and standalone parlors that submitted applications for licenses before the moratorium took effect were approved after the Moline City Council set the limit on electronic slots, he said.
Each license is allowed a maximum of five machines. Moline will not approve new requests until the number of existing licenses drops below 30. 
Anyone with information about the robbery is encouraged to contact  Kluever at 309-524-2162. People wishing to remain anonymous may contact CrimeStoppers of the Quad-Cities at 309-762-9500. There is a monetary reward, Kluever said.
via qctimes.com – RSS Results in news/local of type article https://ift.tt/2Hlh1hF
June 4, 2018 at 06:23PM